Microsoft Dynamics 365 is one of the fastest-growing platforms in the first quarter of 2021 with a whopping growth of over 38% in this quarter. Powered by MS Azure, it is a cloud-based comprehensive business solution for businesses of all sizes and all domains and industries. The share of Microsoft Dynamics 365 vendor in the global market stands at about 4% with an uptrend in growth.
MS Dynamics offers a wide range of modules dealing with the business process automation used in modern enterprises. It supports 11 core modules under two major categories – customer relationship management (CRM) and enterprise resource planning (ERP). Microsoft Dynamics 365 is also available in on-premises versions other than an online cloud-based solution for both Dynamics ERP development and CRM integration.
The substantial increase in the popularity of Dynamics 365 integration has pushed the demand for hiring an MS Dynamics 365 integration team as well as an MS Dynamics 365 consultant across the world. Let's have a look at different aspects of a professional D365 programmer and the hiring criteria of a D365 / CRM developer in this article.
Microsoft Dynamics 365 Developer Demand in Industries
In the present-day business ecosystem, almost every business as well as industry has a substantial need for a comprehensive business solution like MS Dynamics 365 and web development to survive in the fiercely competitive marketplace. To automate different types of business processes, at least one Microsoft Dynamics CRM 365 developer or ERP developer is required.
The major industries and businesses that have substantial demand for the MS Dynamics developers and consultants include the following:
Software development industry
Manufacturing industry
Heavy industries
Sales and marketing industry
Finance and banking industry
Healthcare and medical industry
Training and education industry
Retail and eCommerce
Aviation and transportation
Logistics and warehousing sectors
And many others
An Overview of MS Dynamics 365 CRM Developer
A Microsoft Dynamics 365 specialist can be either Dynamics 365 CRM developer or Dynamics ERP developer and have command over all core modules contained in those two categories. An MS Dynamics 365 programmer is a software engineer that builds different customized tools, integrates with the MS Dynamics 365 platforms and also integrates a wide range of applications and services offered by Microsoft through the cloud as well as on-premises.
A professional-level MS Dynamics 365 developer should have the following top 10 skills to succeed in the marketplace:

Comprehensive knowledge of the platform

– A specialist in MS Dynamics should have in-depth knowledge of all aspects of the platform. He/she should be aware of two major categories – CRM and ERP – and all 11 eleven core modules of the platform.

MS Azure Cloud

– MS Dynamics 365 operates in the Azure Cloud environment, so a developer should have knowledge of MS Azure.

Aware of power platforms and portals

– Should have command over power platform admin center, Dynamics 365 admin panel, PowerSource, PowerApps, common data model (CDM), common data service (CDS), and others.

MS SQL expertise

– This skill should include command over database and migration of databases through SQL server integration services (SSIS).

CRM SDK

– Command over CRM SDK to build certain customized extensions and tools.

C# and JavaScript

– These both languages are extensively used in the Microsoft environment for building tools and APIs

ASP.NET

<– A good MS Dynamics developer should have a good grip over the ASP.NET platform.

Testing, debugging and troubleshooting skills

– All these skills are very important for a developer to build, test and deploy the tools and customize the applications.

MS Developer certification

– Having a Microsoft certification develops and sharpens all skills required for a good developer.

Knowledge of competitor platforms

– For a good MS Dynamics developer, he/she should have knowledge of competitor platforms because the migration of data platforms can easily be done.
Hiring a good CRM Dynamics 365 developer will offer the company the following benefits:
Improved performance
Optimized use of resources
A higher productivity
Better focus on the business idea
Improved capacity
Increased competitive-edge
And many others
MS Dynamics 365 Resume Sample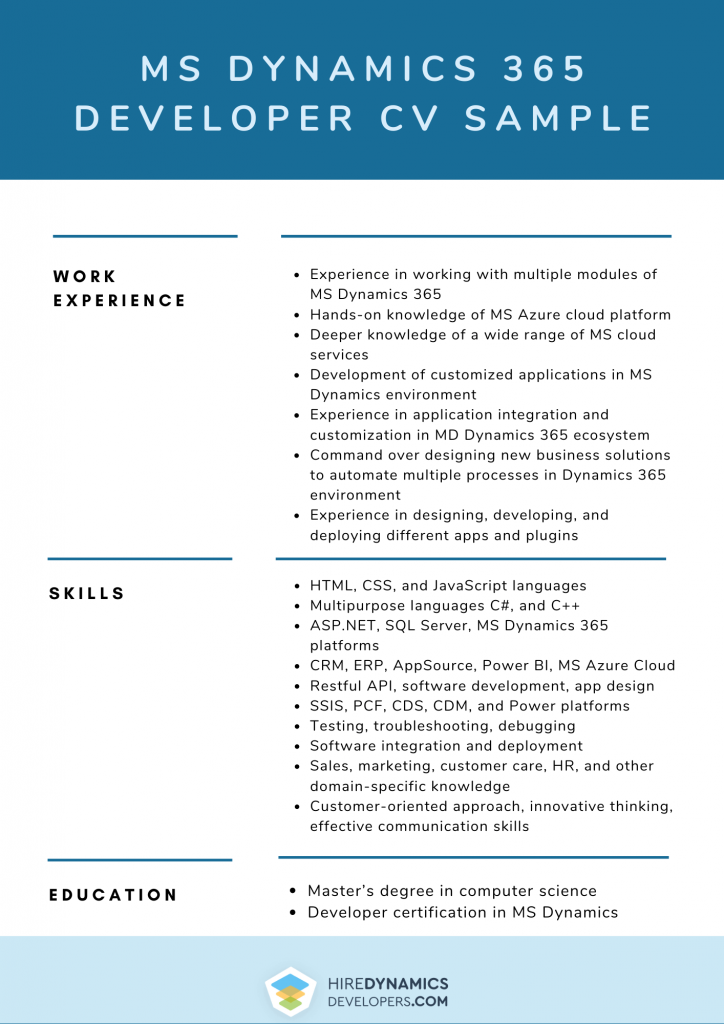 MS Dynamics Consultant Resume Sample
What Does MS Dynamics 365 Software Developer That We Find Offers to Your Business?
Developers hired for Dynamics 365 for finance and operations dev by our expert team offer your business smoothness, cost-efficiency, performance, productivity, faster return on investment ROI. The main technical capabilities offered by our professional developers include the following:

Dynamics 365 consulting services

– Analyzes your existing processes and revamps by adding new tools and customization to make them perform optimally.

Migration and D365 integration

– Help you migrate your databases and integrate new tools and applications.

Dynamics 365 implementation, customization & upgrades

– Offers you the capabilities for implementation, customization, and up-gradation of your existing processes and tools for better performance and productivity.

Dynamics 365 managed services & support

– A full-scale automation for customer support and management of other services with the help of modern solutions so that your business idea grows substantially.
What Products Can D365 Developers We Recruit Work with?
A large scale D365 team structure that we hire for you can work with numerous modules and applications that are supported by MS Dynamics 365 platform. They specialize in different domains and technologies to fulfill the requirements of your business. The main products that MS Dynamics 365 developers can work with include the following:
Sales

– This module or product of MS Dynamics 365 is a member of the CRM category in which the automation of sales is done. The skill of a sales module on the MS Dynamics 365 developer resume enables him/her to build a good relationship with clients, track orders, manage accounts and contacts, take action to complete the sales process faster, and many others.

Field service

– Our developers working with the field service module can preempt the solutions of the issues in offing in business processes. It provides real-time support and guidance for the most matching solutions based on the data analytics of the customer behavior for improving the customer experience significantly.

Talent

– This is a core module in the ERP category. It is a specialized application for managing the human resources of the company. The developers hired for you can manage employees efficiently based on the data such as leaves, salaries, bonuses, work-hours, benefits, overtime, performance, training, certification, education, and many other factors.

Marketing

– The marketing module of MS Dynamics is very useful in the CRM category of the MS Dynamics 365 platform. The developers hired for you can use this module efficiently so that you can find new customers and maintain loyal customers through multiple ways such as providing incentives, coupons, combos, and other promotions. It helps provide the best offers to the customers and build a great customer experience.

Customer service

– It is used for the automation of customer services such as knowledge management, case management, ticket generation, service level agreements (SLAs), consolidated reports, and dashboard access, etc. The activities of customer representatives and customers can easily be the MS Dynamics 365 implementation project manager, operations manager, and higher hierarchy.

Project service

– A very powerful module for project service management. The specialists we hire for you can use this module with full features and capabilities to manage your projects so efficiently that a substantial amount of money and time can be saved with a greater level of project success. This module offers the capability of smooth connectivity among multiple modules to increase the performance and efficiency significantly.
Comparison of MS Dynamics CRM /365 Developer Salary
Whether it is MS Dynamics 365 developer salary or Dynamics 365 implementation consultant salary, there is substantial variation in different countries due to numerous factors such as living cost, type of economy, condition of the economy, availability of tech talent, and many others. Let's have a look at MS Dynamics 365 developer salary in different countries in the following table:
| | |
| --- | --- |
| Country | MS Dynamics Developer 365 Salary |
| USA | $122,921 |
| Canada | $100,000 |
| UK | $76,304 |
| Poland | $35,711 |
| Germany | $76,816 |
| Denmark | $97,602 |
| Italy | $32,553 |
| Australia | $64,799 |
| Switzerland | $111,841 |
| Ukraine | $30,000 (based on our research over a few local job boards) |
From the above table, it is very clear that Ukraine is one of the most competitive in terms of hiring a highly skilled and qualified MS Dynamics 365 developer.
Why Work with Us for an MS Dynamics 365 Developer Contract?
We are a Ukraine-based provider of highly specialized recruitment services for specific projects, tasks, development teams, and existing team augmentation. We have access to a large pool of a wide range of tech talent both in our internal database as well as through external resources. We offer numerous advantages to the businesses of our clients/partners through our professional-grade services. A few of them are listed below:
Faster development of your team within a few weeks
Access to a diverse range of resources for tech-talent sourcing
Highly professional-grade and high-quality recruitment service
Very competitive and fixed prices without any hidden charges at all
The capability of timely scale-up and scale-down of teams
Ideal location for coordination as well as for physical traveling
Our Model for MS Dynamics 365 Team Building
Our model for building MS Dynamics 365 team is highly tuned and structured with predefined responsibility and activity sets. The process of our hiring model is shown in a few simple steps:
Our valued client sends us the profile of an ideal candidate and specification of technical tasks
Our specialized recruitment team screens top resumes based on the client's requirement and sends them for the client's review.
After approval from the client, our team organizes video interviews of shortlisted candidates with the client
The client sends approval for selected candidates after the interview
Our team sends an offer letter to the candidate and get his consent for joining
Then, our resource management team onboards the newly hired employee and brands the office space and other infrastructure as per the client's corporate identity
Our specialized resource management team continuously keeps in touch and monitors the entire infrastructure and resources for smooth operations.
If you want to build a professional team of Dynamics 365 developers, get in touch with us to know how to find an MS Dynamics 365 developer for hire to scale up your team!