Benefits of Microsoft Dynamics Development for Business
Being a cloud-based solution, Microsoft Dynamics 365 offers endless possibilities for different departments (Sales, Field Service, Finance and Operation, Business Central, Marketing, Project Service Automation, etc.) and businesses as a whole.
Since MS Dynamics 365 solutions are modern, adaptable, unified, and intelligent, Microsoft Dynamics development allows for even more advanced, customized solutions that meet the needs of the company. Microsoft Dynamics integration helps businesses simplify data management and innovate in real-time with almost instant updates across all applications, software, and business processes.
MS Dynamics 365
provides the full range of
CRM
capabilities through a set of intelligent business apps that can perform great on their own and even better together:
Dynamics 365 Sales
Dynamics 365 Sales Insights
Dynamics 365 Customer Service
Dynamics 365 Customer Service Insights
Dynamics 365 Field Service
Dynamics 365 Marketing
Dynamics 365 Market Insights
When it comes to Microsoft Dynamics development, working with a reputable Dynamics 365 development company is crucial. With the right team of Dynamics 365 developers, businesses can unlock a range of benefits that can help improve their operations and drive growth.
One of the key benefits of Dynamics 365 development is the ability to streamline business processes. With high quality Microsoft Dynamics 365 developer services, businesses can automate repetitive tasks, reduce manual errors, and increase efficiency. This can save businesses valuable time and resources, allowing them to focus on core business functions.
Another benefit of Dynamics 365 development is the ability to gain valuable insights into business operations.Businesses can use the sophisticated reporting and analytics tools provided by Dynamics 365 to spot trends, examine data, and come to wise conclusions. This can assist companies in growing, providing better customer service, and making wiser decisions.
Businesses may get these advantages and more with the aid of a reliable Microsoft Dynamics 365 developer services supplier. In order to reach your objectives of streamlining your business operations, gaining insightful data, and fostering growth, think about partnering with a Dynamics 365 development company.
Microsoft Dynamics ERP

offers business products for
Finance
(previously Finance & Operations and AX)
Supply Chain Management
(previously Finance & Operations)
Commerce
(previously Business Central and NAV)
Human Resources
(previously Talent)
providing businesses with all the tools needed for efficient management of business operations.
Let's take a brief look at the pros and cons of Microsoft Dynamics implementation for businesses, with the pros definitely winning the game.
The whole business application ecosystem at one place;
A cloud-based solution with a secure common data model;
Customer data management for understanding the customer journey and personalizing customer experience;
Real-time insights with AI-powered predictive analytics;
In-built social listening tools for brand reputation management;
Flexible subscription models depending on the size of the company and features included;
Great scalability;
Boosted productivity of all the departments;
First-class security;
Convenient access controls;
The solution may be too complicated for users who haven't used EPR or CRM platforms before;
Expensive;
Microsoft Dynamics Implementation Services We Provide
We offer the following Microsoft Dynamics implementation services: Customer Relationship Management (CRM), Enterprise Resource Planning (ERP), and Consulting.
Microsoft Dynamics CRM Services
Microsoft Dynamics CRM development allows companies to create customized, data-driven software solutions that help to manage and maintain customer relationships, retention, and satisfaction rates. Also, such a solution can be successfully used to track and nurture leads, prepare and analyze marketing campaigns, and drive actionable data and insights. If you need a skilled Dynamics CRM developer, we are eager to provide you with a certified specialist with working experience in the field.
Microsoft Dynamics ERP Services
Although many businesses have some financial and operational systems in place, most of the standard software can be used only for managing daily business operations and is not helpful for reaching projected business growth goals. That's where MS Dynamics ERP solutions shine brightly, bringing all different processes into one well-organized place for productive and convenient work and collaboration.Read more
Nowadays, Microsoft Dynamics ERP includes business products for Finance, Supply Chain Management, Commerce, and Human Resources that can be utilized separately or used together. Our MS Dynamics ERP developer can create custom solutions for specific or all MS Dynamics products, depending on the company's needs.
Microsoft Dynamics Consulting Services
Our Microsoft Dynamics consulting services help businesses utilize MS Dynamics 365 capabilities to the fullest and come up with a well-thought-out strategy of CRM implementation. Our experienced MS Dynamics CRM consultant can help you to decide on the right set of MS Dynamics products and advice on the successful MS Dynamics development and integration.
If you need a comprehensive solution, we can provide you with a dedicated team that will create a top-notch strategy and take care of its quality implementation.
Customer Relationship Management (CRM)
Enterprise Resource Planning (ERP)
Consulting
Mobilunity, a Parent Company, Is Recognized Globally
Mobilunity's Clients
Main model of Mobilunity is building dedicated development teams.
For 10+ years of existence we've built over 40+ dedicated teams, including MS Dynamics teams, and successfully completed over 100+ projects.
Switzerland
Denmark
France
Germany
United Kingdom
Spain
Belgium
Sweden
Netherlands
United States
Canada
Israel
Japan
MS Dynamics Talent Pool in Ukraine
Ukrainian MS Dynamics Devs in Numbers*
700+
Dynamics CRM developers
600+
MS Dynamics AX coders
600+
Dynamics NAV programmers
500+
MS Dynamics consultants
*Provided numbers are based on Mobilunity's internal recruitment team research
Top3 Decision Factors for Ukrainian Devs to Join Your Team
Ukrainian Dynamics Coders Rates*
**Provided rates include developer's salary, sick leaves, equipment and software, recruitment, payroll taxes, vacation period, office expenses, employee retention
As for the start of 2021, 11.6% of Mobilunity's billable resources are MS Dynamics Developers. Do you lack MS Dynamics engineers locally? Let us get you covered!
MS Dynamics Developers CV Samples
All-inclusive rate - $2600+
MS Dynamics NAV Developer
All-inclusive rate - $2600+
MS Dynamics AX Developer
All-inclusive rate - $4200+
Microsoft Dynamics GP Programmer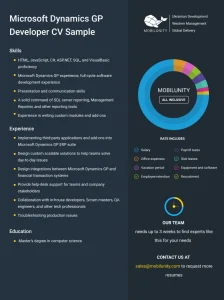 All-inclusive rate - $4200+
MS Dynamics CRM Developer
All-inclusive rate - $75/hour
MS Dynamics CRM Consultant
All-inclusive rate - $4200+
MS Dynamics 365 Developer
All-inclusive rate - $75/hour
MS Dynamics 365 Consultant
All-inclusive rate - $4200+
Microsoft Dynamics 365 Business Central Developer