In today's digital age, business and enterprise software are the indisputable kings. And although advancements in SaaS software and cloud computing have continued to see a spiking growth, many companies that were previously reluctant to leverage technology are slowly beginning to realize that ERP software could make or break their business models.
A recent research study conducted by Allied Research showed that the global ERP market value will grow at a CAGR of 10.2% to reach $78.40 billion by 2026. A different report puts the numbers at $387 billion, with a CAGR of 9.4%. Despite the discrepancies in the numbers, one thing is certainly clear: The future of ERP software is bright.
For Microsoft Dynamics, the projected growth is already actualizing. Figures from Microsoft Q3 2020 shows that the company reported $35.0 billion in revenues, with Productivity and Business Processes segments, (which includes Dynamics 365) generating $11.8 billion. During the same period, Dynamics 365 revenues and customer base grew by 38% and 40% respectively.
With many businesses clamoring for improved efficiency through streamlined business processes, the demand for MS Dynamics CRM developers, administrators and hire Microsoft Dynamics GP migration experts has continued to skyrocket. Unfortunately, many business owners are oblivious to MS Dynamics developer skills to look out for in a Dynamics AX developer resume.
In this article, we are going to look at the factors to consider when choosing a Dynamics CE developer and the skills to look out for in their Dynamics CRM developer resume.
Factors to Consider Before Hiring a Dynamics CE Developer
Choosing the right candidate to implement and support your Dynamics 365 CE solution is akin to having a good general on the battlefield. They may achieve the same end game, but their fighting tactics can widely vary.

Here are 5 key factors to consider before choosing a candidate for your Microsoft Dynamics 365 CE implementation:
Product Knowledge
The very first consideration before hiring a candidate for your MS Dynamics CRM implementation is their product knowledge. The ideal candidate should not only have the technical knowledge of the current crop of Microsoft Dynamics 365 products but also know the current and future trends of the ecosystem.
Experience in Your Industry
When a potential candidate shares their Microsoft Dynamics AX technical consultant resume, you should ensure that their past Microsoft Dynamics CRM developer roles and experience are at least affiliated to your industry. Hiring a candidate with a background in your industry means they have intimate knowledge of your challenges and can anticipate your business needs.
Past Track Record
When checking Microsoft Dynamics 365 Customer Engagement developer resume and interviewing a potential candidate, request for facts and figures indicating the success rates of their past projects. If you are concerned about Microsoft Dynamics developer costs, inquire about the percentage of their past projects that were delivered on budget.
Communication
Just like in any other project, prompt and open communication is paramount in making the implementation of your project successful. An ideal candidate should have multiple communication and collaboration tools to facilitate frequent communication and maintain transparency.
After-Sales Support
Microsoft Dynamics 365 Customer Engagement implementation isn't a one-off process that ends after adoption. As your company expands, you will need to scale up the system and constantly update it.
How often is the candidate available to help sort out after-delivery issues? And if so, what are the cost implications? These are important questions to ask yourself and the potential d365 developer to avoid any problems in the future.
Microsoft Dynamics 365 Customer Engagement (CE) Developer Roles and Responsibilities
Designing and implementing Microsoft Dynamics 365 Customer Engagement (CE) solutions to meet customer business needs and processes
Integrating Dynamics CRM solutions into ERP, Intranet, etc.
Designing, coding, testing multiple Customer Relationship Management apps to ensure compliance with the specifications of the Architecture Blueprint
Troubleshooting production issues
Collaboration with the in-house developers, Q&A engineers, Scrum Masters, and other tech professionals
Following up on the client's business requirements
MS Dynamics Developer CRM Resume Sample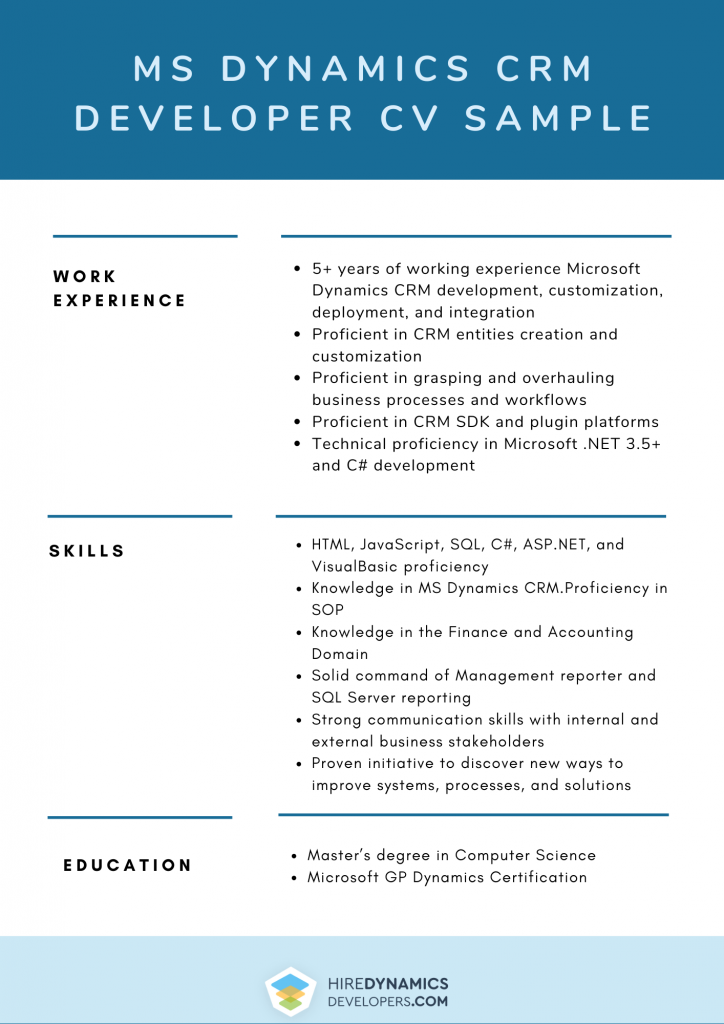 Microsoft Dynamics CRM Consultant Resume Sample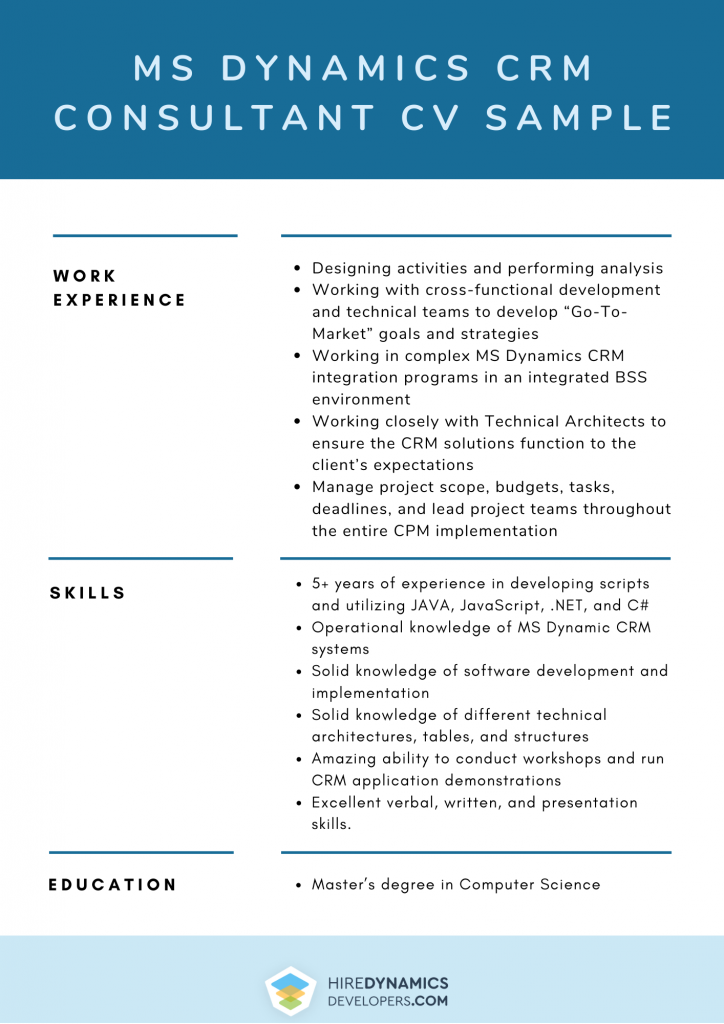 How to Hire the Right MS Dynamics CRM Developer or Consultant
There are multiple methods to hire MS Dynamics 365 CE developer or consultant. They include;
In-house hiring. This entails having a permanent Dynamics 365 CE developer or consultant at your physical office. The only problem with this hiring model is the cost implication, as you have to pay the developer whether they have work or not.
Freelancers hiring. Although cheap, hiring a freelance MS Dynamics CRM developer is unreliable as they can disappear any time, throwing your project in limbo.
Outsourcing. Entails hiring an external dedicated developer or development team to take on your entire Dynamics CRM project. Outsourcing is fully managed, making it the ideal solution for large enterprises with big projects.
Outstaffing. Basically, the service provider takes care of staff recruitment, salaries, IT infrastructure, and the legal aspects of the cooperation. It is an excellent option for small and medium-sized companies.
Get Help From Our MS Dynamics CRM Developer
With all factors indicating that MS Dynamics will continue to grow in the future, it is important that businesses source for qualified Dynamics 365 Customer Engagement experts to deliver products that will meet their needs and help them remain competitive. And that can only happen through thorough probing of their Dynamics CRM developer resume.
If you are looking for highly dedicated Dynamics CRM developers and consultants, we will partner with you to ensure you get Dynamics GP integration solutions that not only make your business competitive but improve your ROI.
Contact us now and request a Dynamics 365 Customer Engagement functional consultant resume of some of our experts!